Learn Mobile MRI Sizing Before You Make A Decision About Purchasing One
Mobile MRI System Dimensions
Before assessing which mobile MRI configuration is the right fit for your hospital or imaging center, it is important to determine whether a mobile MRI trailer can fit in the desired location. Most mobile magnetic resonance imaging systems are outfitted in one of two medical trailer size configurations to meet the imaging needs of patients. Both of these require a rigid, level surface for use.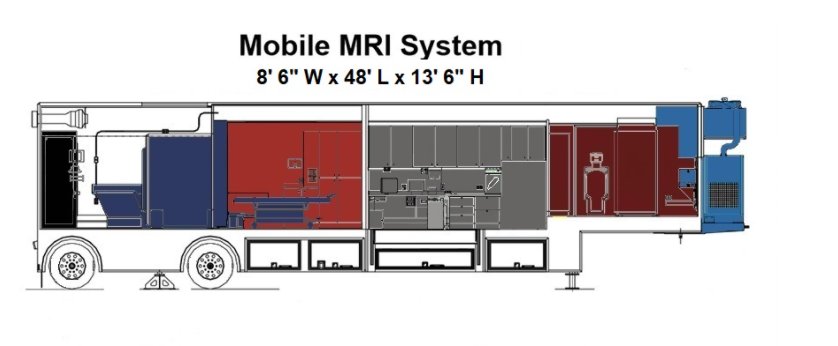 The largest standard configuration for a medical imaging trailer is outfitted in a 12 ft x 60 ft mobile MRI system configuration, with the other option being 8×48 ft.

Patient Lift Location
When planning the site layout for your next mobile MRI unit, it is important to remember that the patient lift is located on the passenger side of the mobile MRI unit. The patient lift may protrude as far as 8 feet. Ensure the area has ample clearance for patient access to and from the medical imaging mobile unit. When it comes to the application process, there needs to be a way for patients to fit through the door on gurneys. Ramps need to be available, or you can have the liftgate go directly into the scan room, or you need to increase the width on scan room door to 48".
How to Avoid Instability
Mobile MRI units are heavy enough to cause warping of asphalt surfaces. This can lead to instabilities during the MRI scan procedure as the uneven surfaces provide added stress points and can lead to the eventual bowing of the mobile MRI chassis. This is more likely to occur under the summer heat when the asphalt is less viscous. To prevent this issue, metal plates are placed under the mobile MRI support surfaces.
Work With The Experts You Can Trust
To learn more about the necessary size requirements for mobile MRI scanners, Call the SwMR Experts Today to speak with one of our customer service representatives or send us a quick message for a free quote!